The Coaches Outreach Athlete study allows coaches to pass it on
ATHLETE BIBLE STUDY SHEETS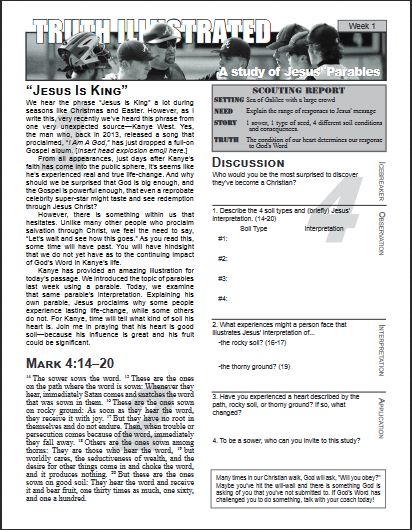 At the request of numerous coaches, Coaches Outreach has developed a new tool to equip coaches to pass on the spiritual lessons they have learned to athletes who desire to grow spiritually…the Athlete Study. This study is a simplified version of the weekly coaches' study. It follows closely to the Coaches Outreach study that coaches use. As such, the Athlete study must be led or facilitated (when athlete-led) by a Coaches Outreach coach already and currently involved in a Coaches Outreach study.
The Athlete version is a two-sided sheet with Scripture and notes on one side, and questions and introductory material on the other. Ideally the sheet is distributed a week ahead of time and covered in a 30-minute meeting. The athletes who prepare ahead of the meeting experience additional depth from their investment and so does the entire group.
The Athlete Study zooms in on one key passage from the Coaches study of that week for the athletes to study and apply. Just as with the Observation, Interpretation and Application questions, the athlete study connects the young generation to biblical truth by reaching their hearts and changing their lives.
Athlete studies may meet at any time or location that works for the group. Always check with your school administration if you are unsure of school policy. If you have any additional questions about the Athlete study, please click HERE to see our FAQ page.
If you would like to look at an example of this semester's study, please click HERE. If you still have questions, contact Mark Chalemin by email at mark@coachesoutreach.org or call him at 214-654-0042.
ATHLETE STUDY DOWNLOADS
Click HERE to download a copy of our Athlete Studies.
LEGAL QUESTIONS
We spoke with the folks at Liberty Institute in Dallas, Texas who provide legal counsel to Christians and Christian Organizations regarding their legal rights. The laws are different in each state, but my main questions was this: Can a coach have trouble with a school district when it comes to their leading a Bible study? In Texas, it appears that a coach can only lead a study when it is not school hours or not on school property. However, in Arkansas, for example, coaches could participate in a Bible study on campus if it is not school hours. The attorney I spoke with said he would be glad to look up the rules for each state if we gave him the state. So those out of Texas who desire to lead a study can give us a call or email and we will get back with you.

He did say that in Texas, the teachers have contracts and he believes that in the contract the teacher is to be warned by superiors if he is going against any school policy. However, if the coach is leading the study and is never warned then he can continue. However, from Coaches Outreach perspective, we never want coaches in trouble (knowing ours and your desire to bring truth), so we leave it up to you whether to ask what the policy is.

A coach, however, can be a sponsor and be in the study (school hours or on campus) if he is not participating. We recommend that in those cases, he trains some student leaders and critiques them in the proper procedure (like your CO study) so time is not wasted with idle chatter and everyone participates as much as possible. That will keep the study time efficient and under some control. They will benefit much more. This is why we want only coaches in our CO study to be overseeing the Athletes' Study. That way we can contact you and you give us an idea of how it is going.

Again, we are here to help you IF you have the time to do the Athletes' study. We exist to encourage coaches. This is all experimental at this time. God will lead and protect us.